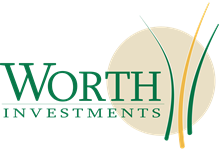 Chad Hoffmann, President of WORTH Investments has generously sponsored our
life-changing
Foundations
curriculum for Prairie High School
"This program has impacted my life in more ways than I could've imagined. I've found myself saving more and spending less on things that don't matter."
STUDENT
About Chad Hoffmann, President of WORTH Investments
Chad Hoffmann, President of WORTH Investments, strongly believes in investing in the community, and he knows that the younger generations are our greatest assets. That's why he is thrilled to sponsor the industry leading personal finance curriculum and join forces with Dave Ramsey, one of America's most well-known financial experts! Note: Securities and Investment advisory services offered through NEXT Financial Group, Inc., Member FINRA/SIPC WORTH Investments is not an affiliate of NEXT Financial Group, Inc.
About Ramsey Education
Ramsey Education is dedicated to seeing students discover confidence, security and hope through learning. Thanks to thousands of passionate educators and sponsors across the country, over 4 million students' lives have already been impacted by our Foundations in Personal Finance curriculum in high schools, middle schools and higher education. Every Ramsey Education curriculum focuses on real-world application, behavior change and proven principles taught by financial expert Dave Ramsey.