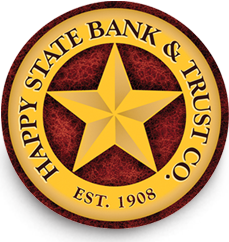 Happy State Bank has generously sponsored our
life-changing
Foundations
curriculum for one school.
"This program has impacted my life in more ways than I could've imagined. I've found myself saving more and spending less on things that don't matter."
STUDENT
About Happy State Bank
Founded in 1908 as First State Bank, Happy, Texas, the bank operated solely in that community during its first 81 years. In 1990, J. Pat Hickman, Chairman and CEO led a group of investors in forming Happy Bancshares, Inc. as they purchased the bank. The generically named First State Bank changed its name to the unforgettable Happy State Bank in 2002. In his 2015 book, "Non-Negotiable. The Story of Happy State Bank & The Power of Accountability," author Sam Silverstein documents how the bank's uncompromising corporate culture has fostered the ability to experience record setting growth, provide an excellent return to its stockholders, create a unique and wonderful place to work – all while focused on giving dynamic, personal banking service to its friends, neighbors and customers.
About Ramsey Education
Ramsey Education is dedicated to seeing students discover confidence, security and hope through learning. Thanks to thousands of passionate educators and sponsors across the country, over 4 million students' lives have already been impacted by our Foundations in Personal Finance curriculum in high schools, middle schools and higher education. Every Ramsey Education curriculum focuses on real-world application, behavior change and proven principles taught by financial expert Dave Ramsey.